Car Seats 101

Rear-facing, convertible, booster seats, oh my! Choosing and installing the right carseat for your child can be a daunting task for novice and expert parents alike. The American Academy of Pediatrics (AAP) has a great car seat guide to help navigate the world of car seat safety.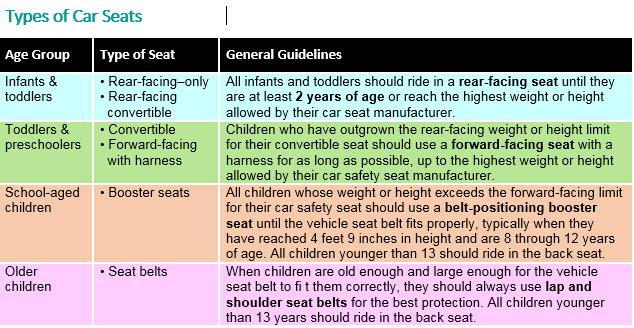 The type of car seat that a child needs depends on their age and size.  Your little one should be in a rear-facing seat from birth until at least 2 years old, so when it is time to graduate from the infant car seat to a convertible or 3-in- 1 seat, the new seat needs to remain rear facing. In fact, it is best to keep that toddler rear facing until they reach your particular car seat manufacturer's height or weight limit. It is okay for their feet to touch the back of the seat while rear facing; this is not a reason to turn their car seat around.  Because his head is so big in proportion to the rest of his body, rear facing protects the neck better if you get into an accident.  Many countries in Europe now keep kids rear facing until 4 years old!
Hooray, your big toddler is ready for the world of forward-facing travel! They should remain in a forward-facing seat with 5 point harness (this includes your seemingly brand new convertible or 3-in- 1) until at least 4 years old, as long as they remain below the height and weight limits of the manufacturer.  Once one of these limits is met, it is time to transition to a booster seat (high-back or backless). The booster seat is needed until your child reaches the magic height of 4'9" and is 8-12 years old. Then, they are big enough to use a seat belt without a safety seat, but cannot call "shotgun" until after they turn 13!
- Meghan