Our Vaccine Philosophy
Our practice believes that all children should receive the recommended vaccines according to the guidelines provided by the AAP and the CDC. Vaccines are safe and effective in preventing diseases and health complications in children and young adults. Regular vaccinations help children ward off infections, and are administered as one of the safest and best methods of disease prevention. If you have questions or concerns about vaccines, we are happy to discuss them at your child's next visit.
We are actively working on a new vaccine policy to better protect our patients. We are no longer accepting new patients who are not vaccinated. Please stay tuned for updates.
Immunization Schedule
CDC Vaccine Schedule and Catch-Up Schedule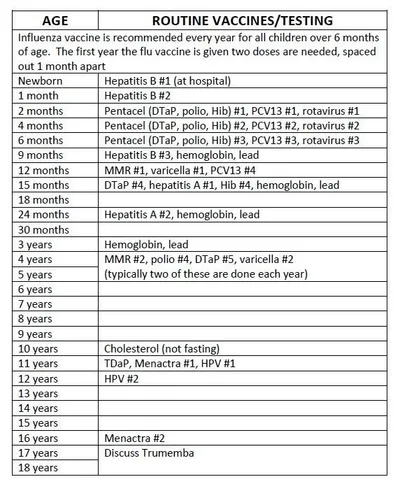 Travel Vaccines
Are you planning a trip outside of the United States? There may be recommended travel vaccines/medications for foreign travel depending on the area you are traveling to. Call our office today to request a Travel Visit. We recommend you schedule your visit at least 2 weeks prior to departure. Visit the CDC Travel website for more information and location specific requirements:
CDC Travel Site
.
More Vaccine Resources